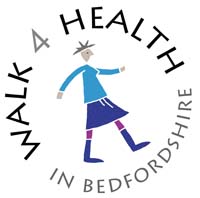 A member of the Bogtrotters, Sue Jenkins help to run a health walks programme in and around Houghton Regis. The walks are organised through Walk4Health Bedfordshire under the umbrella of the national Walk for Health scheme – see https://www.walkingforhealth.org.uk/
The Houghton Regis walks are open to all (though children need to be accompanied), they are free and there is no need to book beforehand.
For further information on W4H Bedfordshire please contact Mike Fayers (Bedfordshire Health Walks Manager) on 01767 626453 or at mikef@bedsrcc.org.uk
Starting by the Cricket Pavilion on the green these often involve some walking in Houghton Hall Park and surrounding pathways.
These walks take place every  Thursday at 2pm.   Afterwards there is usually time for a cup of tea and a chat at the cafe in Bedford Square. These walks are designed to give the heart a little exercise and last about 45 minutes.
EVERY THURSDAY at 2pm

If you are interested in coming along either just turn up or contact
Sue: 01582 865966